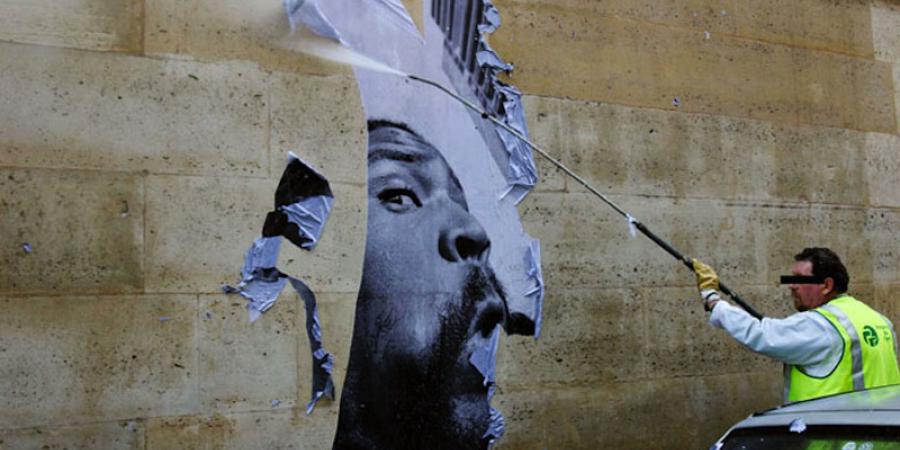 http://www.jr-art.net
http://www.insideoutproject.net
"Art doesn't change the world but it can create an analogy. Art can change the way we see the world. And this for me is already changing things." JR is a young French photograffeur that started making graffiti in Paris when he was 15.
One day he found a cheap camera in the subway and he started taking pictures of his own and his friends' graffiti adventures. That's when he started working with portraits. Years went by and his art gallery is still the street. JR works are not conceived to last: the rain and the wind end up by spoiling them, but what remains is much more important.
In 2006 he launched Portrait of a generation, huge-format portraits of people from Paris' banlieues, where he looked for life behind the tragedy that was depicted by the media rethoric. In 2007 in the Middle East, with business partner Marc, he made Face2Face, which some consider to be the biggest illegal photo exhibition ever.
In 2008 he embarked on a long international trip for his exhibition Women are heroes, a project underlining the dignity of women who are the target of conflict. In 2010, the documentary Women Are Heroes was presented at the Cannes Film Festival and received a long standing ovation.
Last year, JR was awarded the TED prize. The same day he launched the Inside Out project:
"A subject you're passionate about, a person about whom you want to tell the story or even your own photos - tell me what you stand for. Take the photos, the portraits, upload it [...] and I'll send you back your poster. Join by groups and reveal things to the world. The full data is on the website - insideoutproject.net [...] What we see changes who we are. When we act together, the whole thing is much more than the sum of the parts. So I hope that, together, we'll create something that the world will remember. And this starts right now and depends on you."
Check out Inside Out Barcelona http://theinfluencers.org/en/insideout/