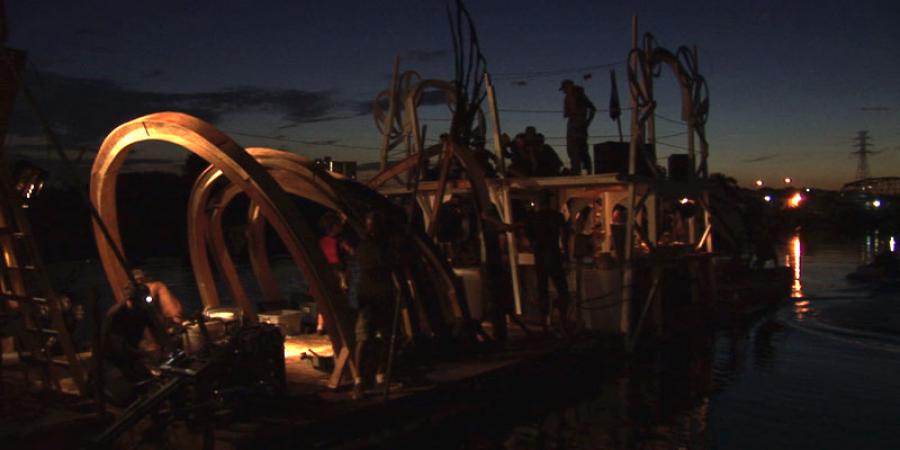 http://missrockaway.org / http://www.switchbacksea.org
"I look at the word SWOON as a body of work, not as my name. SWOON is not me. I'm not Swoon. SWOON is like a way of thinking. It's a body of work. It's a series of interrelating thoughts."
Swoon lives in Brooklyn and her interventions appeared on NYC walls since 1999.  Swoon is also co-founder of the artistic collective "The Miss Rockaway Armada", which in 2006 built a small fleet of rafts using recycling and low technology materials.
A "mobile utopia" that circulated across the Mississippi from Mineapolis to New Orleans with the idea of showing other ways of moving and living, providing the opportunity of unusual meetings and sharing knowledge and experiences on the artistic work of the whole collective involved. Eventually the "Miss Rockaway Armada" was about reinventing possible ways to understand stories that relate new and old America.
Inspired by the Miss Rockaway experience, in 2008 Swoon began a new trip with seven rafts: the "Swimming Cities of Switchback Sea", this time sailing the Hudson river from Troy (upstate New York) down to New York City. The intricately hand crafted vessels were powered with alternative energy sources and made stops in towns along the way, with those aboard sharing their time between maneuvering the boats and bringing live performances to the sea and shore alike.