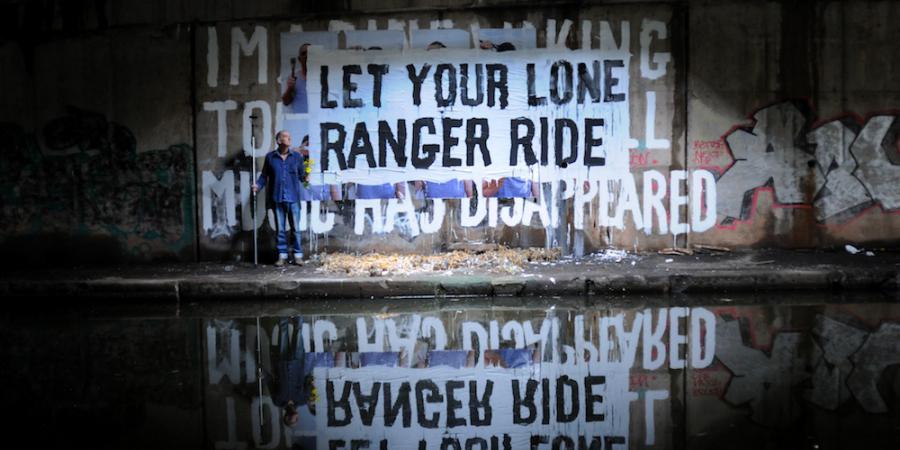 "I SOLD my soul to the Devil once, can't remember when I did it, but I got a good price. I got all the trimmings – fame, fortune, that sort of thing. But then I had to take things a step further because I wanted to get my soul back again."
Since the 70's Bill Drummond has been the protagonist of ambitious, reckless projects and several, almost invisible challenges, though epic in their own way.
He has been an art student, apprentice in a fishing boat, gardener, highway construction worker, carpenter on a theater, and member of a punk band with not much success. In the 80's he was the manager of well known rock pop groups and later on the artistic consultant for one of Britain's largest record labels. In 1986 he suddenly quit: "there is a higher mountain to climb and I want to see the world from the top", he wrote on his resignation letter.
In 1987 he and Jimmy Cauty published "What the fuck is going on?", first and last album of The Justified Ancients of MuMu. The album heavily relied on samples and appropriation and a fragment from an ABBA tune got cought in the mix. The pop giant didn't take it very well and asked them to destroy all copies of the album. Drummond and Cauty traveled to Sweden to try to negotiate but they weren't even received, so they burned all the records in a ritual, throwing what was left to the waters of the North Sea.

In the next year they came back as The Timelords and their "Doctorin' the tardis", a monstrous mix of pop hits and other music residues, became a number one hit, selling over a millions records.
That's when they decide to publish "The Manual (How to get a number one hit the easy way)", a brilliant and implacable dissection of the music industry mechanisms to produce musical success, whose recipes they would apply when they come up with another mysterious identity: The Kopyright Liberation Front, or KLF. Between 1988 and 1991 KLF collects with its singles a number one place all over the world. Meanwhile, its authors kept invisible and faceless. In 1992, at the peak of their KLF's fame, during a performance at the Brit Awards ceremony, Drummond came onto the stage with a machine gun and fired blanks to the audience. The pair immediately announced their officialment retirement from music and destroyed their entire catalog.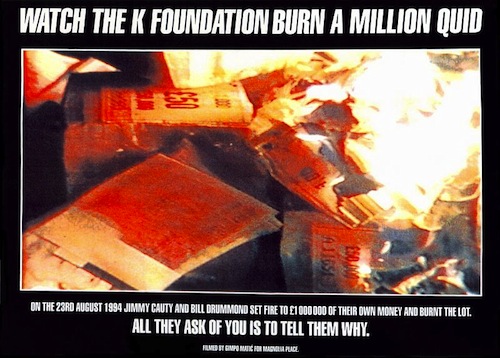 Then the K Foundation adventure began: an anonymous entity created to play freely with media and its obsessions. In the next years Drummond and Cauty planned several actions to convert what was left of the money earned through their musical career into a work of art. They created the award to the Worst British Artist (which doubled the monetary reward of the one given in the official one for the best artist) and they even bought add spaces to release cryptic messages against music or commercial art. After a series of attempts they decided to get the money out of the bank and simply burnt it, and so they did: in August of 1994, one million pounds became ashes in a Scottish island and in front of a journalist and a video camera. Years after a book was published with just still images from the video and the comments of those who saw it.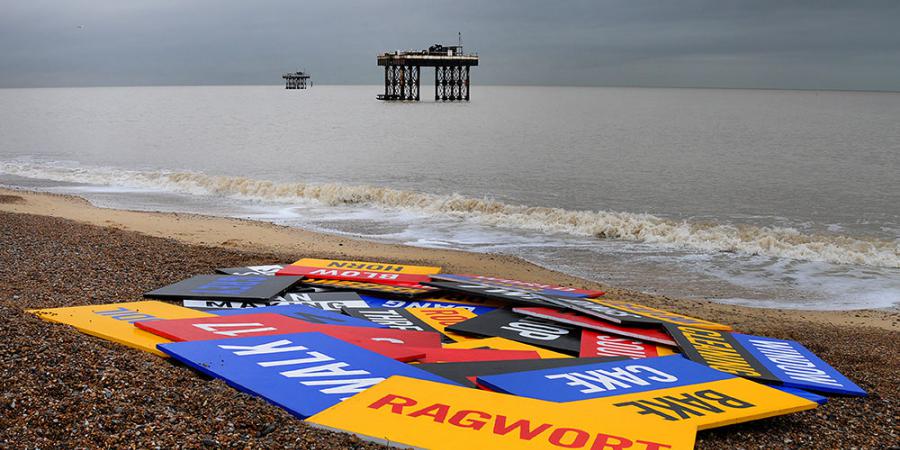 At the end of the 90's, after recovering his soul, Drummond decided to change strategies. Penkiln Burn was born and under this name he started to release ideas, build things, distribute them for free and design long term projects: he proclaimed a day without music; made experiments with unknown people's dreams and obsessions; gave stuff away. Between 2003 and 2013 Drummond organized ephemeral choirs of 17 people in different cities with the objective of reinventing music as if it had disappeared from the face of the earth. ...And so much more. Projects that don't need to have repercussions in mass media to take place: accions thought to live experiences and immediately delete their traces, except in the memory of the participants.